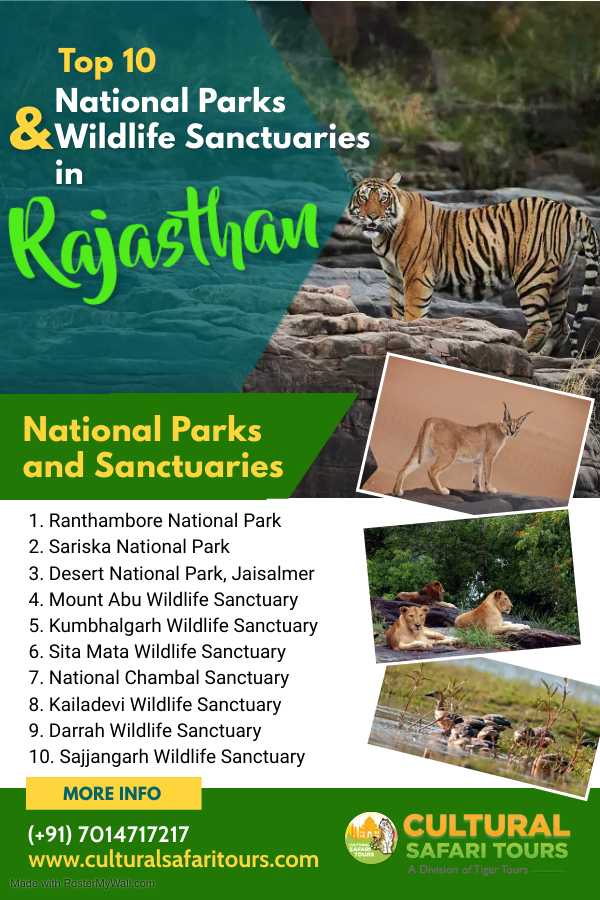 Rajasthan is a state of the royals, and its rich heritage and civilization are filled with various examples of the royal culture. Rajasthan offers a lot of cultural diversity and beautiful fauna as well. Ranthambore National Park, Sariska Tiger Reserve, Kumbhalgarh Sanctuary, Sitamata Sanctuary, Mount Abu Sanctuary, Desert National Sanctuary, Darrah Sanctuary, and Sajjangarh Wildlife Sanctuary are a few well-known wildlife sanctuaries national parks in Rajasthan. Ranthambore National Park, and Sariska Tiger Reserve, are significant national parks and Tigers and bird sanctuaries.
Wildlife in Rajasthan is characterised by tigers and includes Ranthambore National Park. In addition, you can see animals including Owlets, the Common Langur, Leopards, Caracals, Wild Boars, Bears, and many types of Deer.
The Maharaja of Kota used the Darrah Wildlife Sanctuary as a royal game hunting reserve. Visitors can witness spotted deer, wild boars, bears, sambhar, leopards, panthers, and antelopes in this area. The magnificent Indian Bustard can be seen in the Desert National Park. Chinkara, Wolf, Hare, and Desert Cat are a few more stunning creatures. You can locate grey partridge among the birds. Additionally, you can see birds like Indian rollers, common and bush quail, blue-tailed and green bee-eaters, and drongos.
If you head to the well-known Kumbalgarh Wildlife Sanctuary, you'll see Sloth Bear, Wolf, Leopards, Jackals, Hyenas, Jungle Cats, Sambhar, Nilgai, Chinkara, Chaisingh, and Hare. Additionally, there are a variety of species that you can observe, including Grey Jungle Fowls, Peacocks, Doves, Red Spur Owls, Parakeets, Golden Orioles, Grey Pigeons, Bulbul, and White Breasted Kingfishers. It is possible to explore Rajasthan's other wildlife sanctuaries and their unique collections of natural beauties by taking a lengthy trip there.
Here are 10 of the best wildlife sanctuaries and national parks in Rajasthan
1. Ranthambore National Park | 2. Sariska National Park | 3. Desert National Park, Jaisalmer | 4. Mount Abu Wildlife Sanctuary | 5. Kumbhalgarh Wildlife Sanctuary | 6. Sita Mata Wildlife Sanctuary | 7. National Chambal Sanctuary | 8. Kailadevi Wildlife Sanctuary | 9. Darrah Wildlife Sanctuary | Sajjangarh Wildlife Sanctuary
Suggested Tours: Jaipur Ranthambore Tour, Rajasthan Wildlife Tour
Safari Booking: Ranthambore Safari, Sariska Safari,
Must Read: Top 8 Wildlife Sanctuaries in India
Ranthambore National Park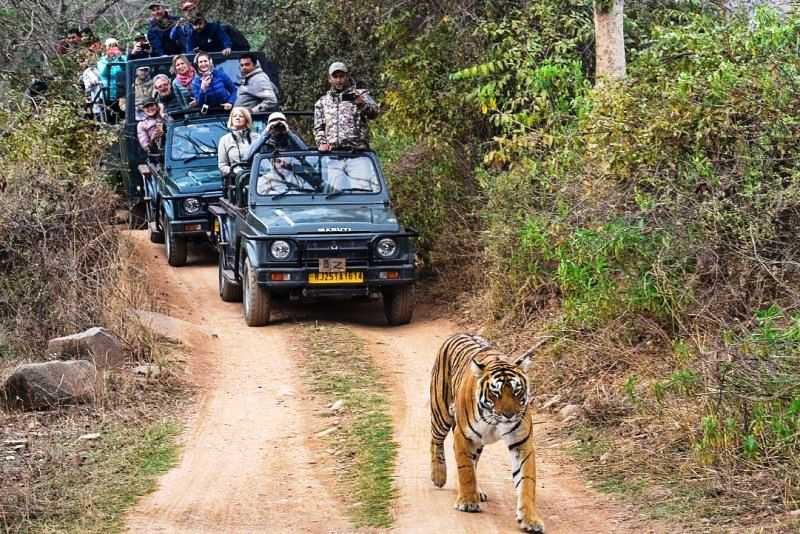 Ranthambore National Park is Northern India's forty-first-largest national park. The wildlife sanctuary is one of the tiger reserves that are under protection and is well-known for its Bengal Tiger population. It is among India's top locations for viewing animals in their natural settings. Even during the day, tigers can be easily observed prowling around. November and May are the ideal times to explore the wildlife refuge. The fauna of the park also includes Southern Plains Grey Langurs, Indian Leopards, Wild Boars, Striped Hyenas, and Mugger Crocodiles. The sanctuary also supports the greatest number of banyan trees in India as well as a diversity of plants and birds.
Sariska National Park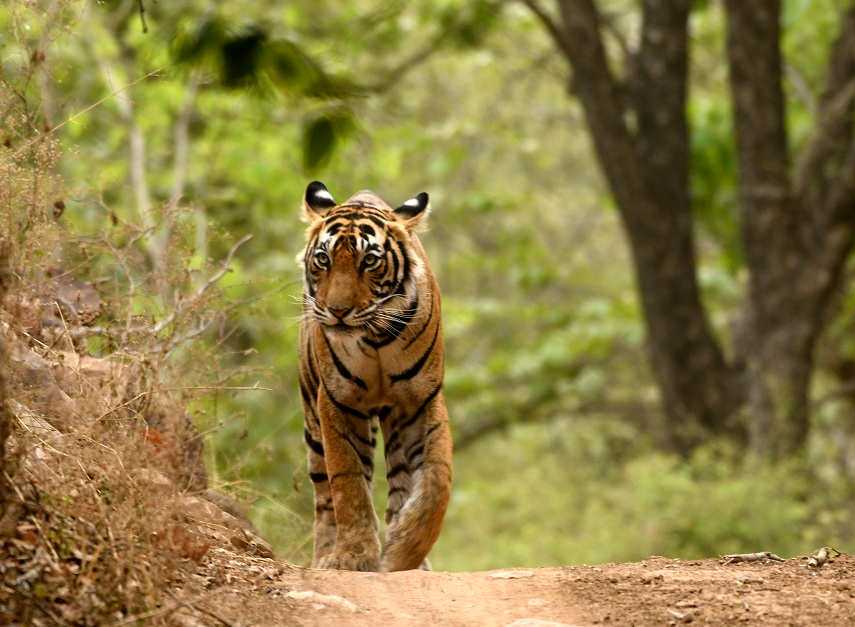 The park, which is in Rajasthan's Alwar district, was declared a tiger reserve in 1978. The Royal Bengal Tigers, which later vanished, were successfully treated and moved for the first time in history to Sariska National Park
It is a protected area made up of rocky terrain, grasslands, cliffs with hills, and dry forests. There are also striped hyenas, chinkaras, nilgais, jungle cats, leopards, golden jackals, etc. that can be spotted in the park. Here, you may hear the chirping of some lovely birds.
Must Read: Complete Travel Guide to Ranthambore National Park
Desert National Park, Jaisalmer
One of India's most well-known and expansive national parks is the desert. It is located close to Jaisalmer. The park's distinctive terrain is what draws a great number of visitors from all over the world. Sand dunes occupy 20% of the park's surface area. The park's birds is also a draw, in addition to the stunning scenery. Both native and migratory birds call this area home. Falcons, vultures, tawny eagles, spotted eagles, sand grouse, and other species are frequently seen. The park's main draw is the threatened Great Indian Bustard, which is present in decent numbers. The best time to visit Park is from November to January.
Mount Abu Wildlife Sanctuary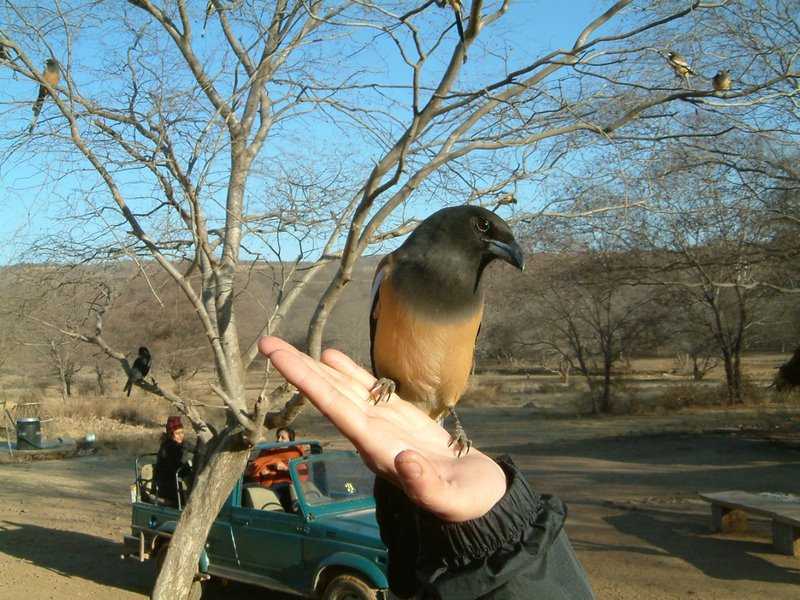 The Aravalli range, one of India's oldest mountain ranges, is where the sanctuary is situated. There are 112 plant families, 449 genera, and 820 species of plants in the park, which is exceptionally wealthy and diverse in its floral richness. A variety of orchids are only found in Mount Abu Sanctuary in Rajasthan. The park is home to several different animal species, including the Indian Fox, Common Langur, Wild Boar Sloth Bear, Pangolin, Common Mongoose, Indian Hare Porcupine, Hedgehog, and more. This region is also frequently home to the rare Green Adavat. There are also about 250 different bird species in this area. From April to June and November to February are the ideal times to explore the park.
Kumbhalgarh Wildlife Sanctuary
The Kumbhalgarh Wildlife Sanctuary includes the Kumbhalgarh Fort and the Aravalli Mountain range. The sanctuary is home to a wide range of wildlife, including some critically endangered species. Hares, Chinkaras, Jungle Cats, Leopards, and Wolves, among other animals, constitute part of the sanctuary's wildlife. The area is also home to a variety of bird species, including the wary and evasive Grey Jungle Fowl, Peacocks, Doves, Parakeets, Grey Pigeons, Bulbuls, and White-Breasted Kingfishers. The sanctuary is accessible to visitors via horseback safaris and foot tracking. The optimum time to visit the safari is from October to March.
Sita Mata Wildlife Sanctuary
The sanctuary, which is the main draw of the region, is located in Rajasthan's Pratapgarh district. It was designated a protected area in 1979 and is now one of Rajasthan's most well-known wildlife sanctuaries. The convergence of the Aravalli mountains, the Vindhyachal Hills, and the Malwa Plateau has caused the terrain of the sanctuary to ripple. The sanctuary, which has a wide variety of plants, trees, and other species, is frequently referred to be a birders' paradise. The cattle egret, tiny egret, tawny eagle, Indian darter, grey heron, little grebe, little cormorant, white-eyed buzzard, black winged stilt, and several other birds are the most frequently observed birds. The park's main draw is the Vegetarian Mammal Flying Squirrel. The commonly spotted animal species are Neelgai, Wild Bear, Spotted Deer, Jungle Cat, and Fox etc.
National Chambal Sanctuary
The wildlife sanctuary is located on the banks of the Chambal River, where the boundaries of the three states of Rajasthan, Madhya Pradesh, and Uttar Pradesh converge. The sanctuary is dedicated to the preservation of the critically endangered species of Ganges River dolphins, Gharials, and Red-crowned Roof Turtles. Indian wolves, striped hyenas, smooth-coated otters, mugger crocodiles, and other species can be found in the sanctuary. Gharials, crocodiles, freshwater dolphins, and endangered turtles are the sanctuary's principal draws. Visitors can rent boats to explore the river Chambray in search of and capture images of crocodiles, dolphins, and turtles.
Kailadevi Wildlife Sanctuary
The Ranthambore National Park contains the sanctuary. It is one of Rajasthan's most well-known wildlife sanctuaries and is home to a vast array of different bird and animal species. The Keladevi Temple, which is located inside the sanctuary's boundaries, inspired the naming of the sanctuary. Here, it's common to see sambhar, wolves, hyenas, sloth bears, leopards, tigers, jackals, wild boars, chinkara, and other species. In the sanctuary, tourists can enjoy themselves by going on jeep safaris and bird watching excursions. The sanctuary is most visited from September to March.
Darrah National Park
One of Rajasthan's most visited national parks is the Darrah National Park. The Darrah Wildlife Sanctuary, the Chambal Wildlife Sanctuary, and the Jaswant Sagar Wildlife Sanctuary are among the three wildlife sanctuaries that make up the organisation, which was founded in 2004.
Large tracts of forest that were originally the Maharaja of Kota's hunting grounds may be found in the national park. The wildlife sanctuary, which has a surface area of 250 sq km, is located 50 kilometres from Kota. In 1955, the sanctuary was formally designated as a protected area. Numerous animals live there, including wolves, wild boars, deer, nilgai, and cheetahs. The sanctuary is most visited from July to September.
Sajjangarh Wildlife Sanctuary
The renowned Sajjangarh palace is barely 5 km away from this sanctuary, which is located in Sajjangarh. Along with many other species including blue bulls, hares, and jackals, you will witness reptiles like crocodiles and alligators. This location boasts captivating panoramic vistas and sceneries, including a lake, which adds to its allure. The entry fee to this location is INR 300, and it is open from 10 am to 6 pm. In addition, safaris are possible here. Prices could change.
So much to see! Will the heat be worth it in the end? Therefore, you must include at least a few of the places on this list when you plan your vacation to Rajasthan in the future. You won't be let down!