The Best 15 Things to Do in Agra (Taj Mahal)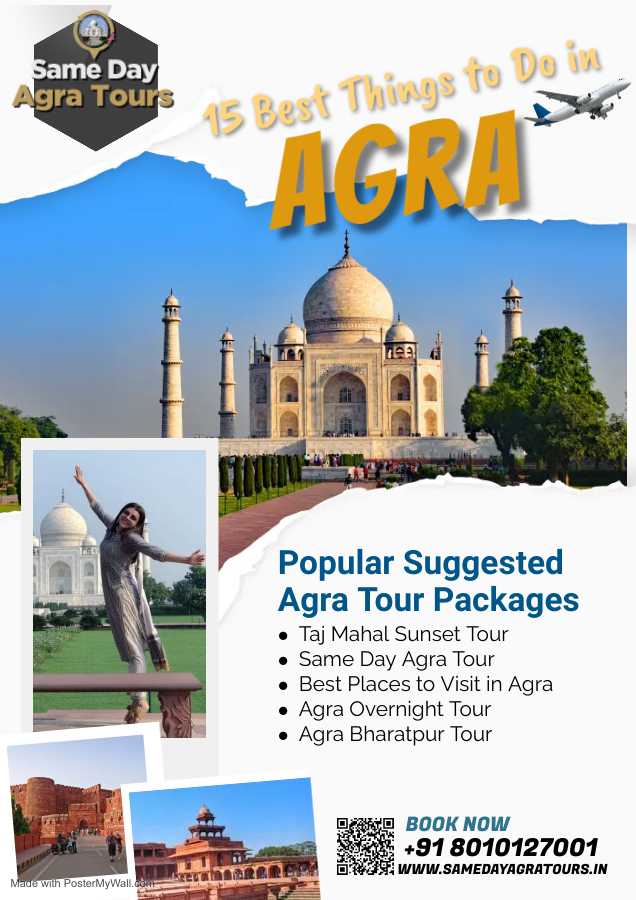 Agra, a city famous for love, petha and which makes India more famous in the whole world. Agra is often on the list of travelers from across the world who are visiting India! And it should be, as you have one of the most enchanting and enthralling monument located here – 'The Taj Mahal'.  This one monument is enough encouragement for you to take a trip to Agra. This city is best defined by its historical treasures, it carries within itself not only a comprehensive history but the entire culture of the Mughal dynasty in India.
Other tourist spots like the Agra Fort and Fatehpur Sikri do hold their own place in history and culture, but the crown jewel of Agra is the magnificent Taj Mahal.
List of Top Must Visit Attractions in around Agra –
Taj Mahal                                       Agra Fort         
Fatehpur Sikri                               Itimad-Ud-Daulah's Tomb
Mariyam's Tomb                          Akbar's Tomb
Mehtab Bagh                                Chini Ka Rauza
Ram Bagh                                      Radhasoami Samadhi
Keetham Lake                               Motilal Nehru Park
Jama Masjid                                  Anguri Bagh
Taj Mahal Sunrise Tour                    Same Day Agra Tour
Best Places to Visit in Agra             Agra Overnight Tour
Taj Mahal


The Taj Mahal is India's most popular tourist destination and is known for being a representation of unconditional love. It was constructed in the 17th century under Sha Jahan's rule as a memorial to Mumtaz Mahal, his third wife. The complex contains the burial of the emperor's wife, who passed away during giving birth.In addition to being one of the Seven Wonders of the World, Taj Mahal is also known as the "Jewel of Muslim craftsmanship."
Its construction needed about 20,000 employees and took more than two decades. You should arrive extremely early in the morning if you want to see this mausoleum because it is one of the most popular tourist destinations in the world.
Agra Fort
The Agra Fort is one of the city's most visited tourist destinations. If you enjoy visiting historical sites and consider yourself a history buff, you must see this majestic fort. It will transport you to the Mughal era. Your heart will be blown away by the Agra Fort's stunning red sandstone architecture. You must visit the magnificent structures at the Agra Fort. There are extensive subsurface areas. Shah Jahan, the Mughal emperor, used to listen to his subjects' issues at the Diwan-I-Aam. One of the most visited sights in Agra Fort is the stunning Nagina Masjid. Shesh Mahal, Khas Mahal, and Jahangir's Palace are among of the additional sights to explore in this area.
Fatehpur Sikri
in Agra sightseeing tour Your journey to Agra won't be complete if you haven't been Fatehpur Sikri. It is included among the top ten sights to see in Agra. Akbar, the Mughal emperor, constructed Fatehpur Sikri between 1572 and 1585 AD. One of the greatest sites to explore in Agra today is there. The history of Fatehpur Sikri's construction is fascinating. Because Akbar lacked an heir, he prayed for a son and sought the blessings of Salim Chishti, a Sufi saint, to make his dream come true. After some time, Akbar received a son as a result of his blessing. He gave his kid the name Salim and made Fatehpur Sikri his capital out of gratitude. According to another legend, Akbar Babur gave this location the name "Shukri" in honour of the residents who had assisted him in defeating Rana Sanga at the Battle of Khanwa in 1527.
Itimad-Ud-Daulah's Tomb
Dedicated to Nur Jahan's father, Mirza Ghiaz Beg Agra's Itimad-Ud-Daulah is among the best locations to visit. While serving in the Mughal court, he was given the name Itmad-Ud-Daulah. In the years 1622 and 1628 AD, this mausoleum was ordered by Nur Jahan. In Akbar's Mughal court, he served as the most dependable minister and treasurer. Jehangir also wed Nur Jahan, his daughter. This beautiful marble's Persian-style construction is similar to Taj Mahal, which is why it is also called as Baby Taj. Although there is a lot of historical knowledge, you will undoubtedly like this location.
Mariyam's Tomb
One of the most well-known tourist attractions in Agra is Mariyam's Tomb, which was constructed in honour of Akbar's wife Mariam Uz Zamani Begum, who was the mother of Mughal emperor Jehangir, also known as Hira Kunwari. It is situated at Sikandra, a few kilometers from Akbar's Tomb. Jehangir constructed the mausoleum in 1623. If you are interested in learning about the past, you must visit this tourist spot. Your senses will be overwhelmed by the Mughal Gardens, domes in the Mughal architecture with lotuses on top, and the interesting Chhatris. It is a lovely tourist destination to discover in Agra.
Akbar's Tomb
Sikandra, an incredible and significant tourist destination in Agra, is a must-see since it is home to Akbar, one of the most beloved Mughal emperors, and it is where his mausoleum is located. In addition, it is a stunning location. The stunning combination of Muslim and Hindu architecture is breathtaking. It also symbolises Akbar, the Mughal ruler, and his secular perspective. The mausoleum was started by Akbar, but he was unable to finish it, which is the most intriguing truth about this location. Later, his son Jehangir completed it.
Mehtab Bagh
Mehtab Bagh is a famous historical tourist destination in Agra that is stretched out over 300 acres and is situated on the western banks of the River Yamuna. This Bagh is the final of the 11 pleasure gardens that the Mughal emperor Babur is reputed to have constructed. The Taj Mahal may be seen from this lovely garden as well. It's a great location for leisurely strolls. The appeal of this location was heightened by the lovely walks, fountains, and pavilions. This location has a fascinating history. It is stated that Shah Jahan made the decision to construct the black Taj Mahal in perfect alignment with the white Taj, but his plans to do so were never realised since his son Aurengajeb kept him imprisoned until his death.
Chini Ka Rauza
Don't miss this Indo- Persian architecture style marvelous monument known as Chini Ka Rauza. It is dedicated to Shah Jahan's prime minister Afzal Khan Aalami built in 1635 AD in Etmadpur. Decked with mesmerizing gardens and the blue glazed tiles which is known as Chini Mitti (Porcelain) at that time will take your breath away. The floral designs on the monument are of Persian style and the most striking feature here is the beautiful tomb which resembles the style of Afghan Tombs. It is an interesting tourist place to explore in Agra for history lovers.
Ram Bagh
Built by Babur and renovated by Jehangir's wife Nur Jahan, Ram Bagh is the oldest and the most beautiful Mughal gardens to explore in India. It is also one of the must visit destinations in Agra. It used to be known as Aaram Bagh and was built for the purpose of seeking pleasure amidst nature. It is one of the best masterpieces of Islamic architecture which you must behold if you are an architecture and history lover. Pillared Pavilions, beautiful waterways and decorated footpaths make it a wonderful place for nature walks.
Radhasoami Samadhi
Agra's Radhasoami Samadhi is a tranquil tourist destination that shouldn't be missed. This lovely headquarters serves as a homage to the Radhasoami religion. It is considered that providing consistent service to this community cleanses the soul and clears life's backlog of karma. Radha Soami Sect founder "Swamiji Maharaj" is buried there in his mausoleum. In reality, it is a sect that has been under the direction of different Sadgurus for many years rather than a religion to practise.
Motilal Nehru Park
Visit Motilal Nehru Park for the greatest Uttar Pradesh tourism experiences. It is one of the greatest tourist destinations for leisurely strolls since it spans from the Agra Fort to the Taj Mahal. Here, you may also have a picnic with your loved ones. Couples may have a good time there too. Every minute is made wonderful when two people are holding hands, walking, and conversing with one another. As a result, it is also among the top Agra tourist destinations for couples.
Jama Masjid
The 17th-century Jama Masjid is a must-see historical tourist destination in Agra. It also goes by the name Friday Mosque. Shah Jahan's daughter Jahanara is honoured at the Jama Masjid. This building made of red sandstone and white marble has a beautiful appearance. The intricately carved inner walls depict the praise of Shah Jahan and Jahanara and also the lovely relationship between them. Every Friday a special prayer is held and tourists from all across the globe come here to get divine blessings. The twelve inner domes at the lower level makes it quite gorgeous to behold.
Anguri Bagh
Anguri Bagh, sometimes referred to as the Garden of Grapes, is a popular tourist destination in Agra. It is a charming tourist place to visit since it is covered with red sandstone in the south, north, and west and beautiful Khas Mahal on the east side. It was formerly where the Mughal Empire's royal women would take leisurely strolls. This site is magnificent since it has about 85 symmetrical gardens, a lovely fountain, and a lovely pool. In Agra, a courtyard with peaceful tanks, hamams, and gardens provides for a pleasant place to see the natural world. Shah Jahan constructed it in the year 1637 AD.